[Solved] Windows 10 Upgrade to Black Screen of Death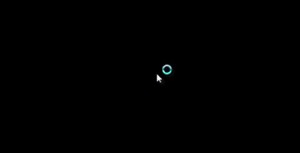 This is probably not the first place you looked, in order to find a solution for the black screen problem, related to a Windows 10 upgrade. And before you get all excited, this was the resolution that worked for a Dell Inspiron N5050. I don't know how it pertains to other brands/models.
After upgrading Windows 7 to Windows 10, I was left with a basically unusable laptop. I could connect a monitor and (sometimes) see the screen, but explorer.exe kept crashing. Then I did a PC reset, with a "clean" Windows 10 install. Well, that got the computer working…for a while. It ended up that Windows 10 had no support for the Intel HD Graphics 3000. If I disabled that, in the Device Manager, I could use the laptop, but the graphics were severely diminished.
So, I did what everyone else is doing…banged my head against the wall for a few days. Out of frustration, I went to Dell.com to find a new BIOS version. One existed and I downloaded it and flashed the BIOS from A03 to A05.
Bingo! For whatever reason, I can run Intel HD Graphics 3000, without issue. Everything works as it's supposed to!
Tags: [wpv-post-taxonomy type="post_tag" format="name"]